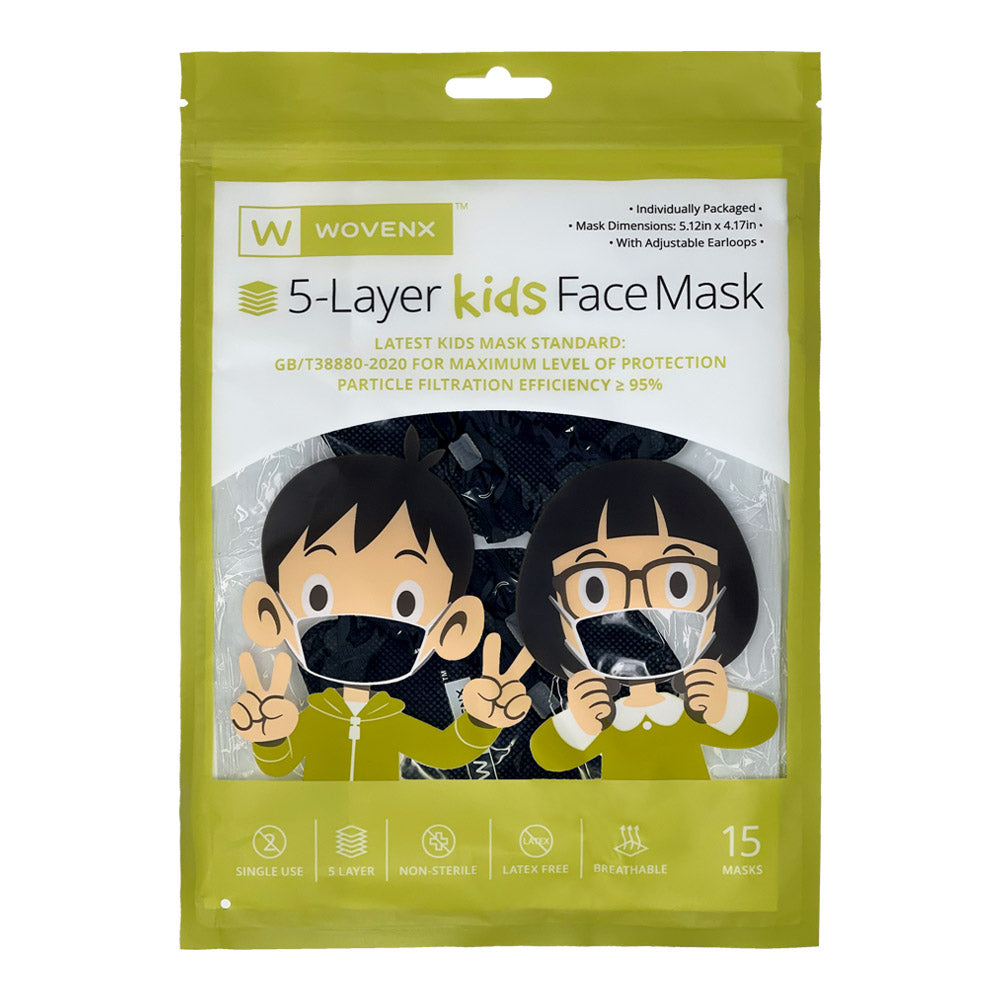 FDA Registered: Owner Operator Number 10080672
NEWEST KIDS MASK STANDARD: GB/T38880-2020, 5 PROTECTIVE LAYERS 95% Filtration Efficiency, The innermost layer is a Polypropylene Spunbond Non Woven layer, which is super soft and gentle on the skin, followed by two layers of polypropylene melt-blown non woven layers which act as the filters, with a layer of Spunbond non woven in between the filters, followed by a Fiber Fabric with the printed design. The GB/T38880-2020 is a kids only standard that meets 95% filtration capabilities. SGS testing has been done to show that our masks meet that filtration efficiency and the standard. SGS is a world renown 3rd party testing company. Our testing report is electronically signed for our kids masks. On page two of the report it discusses the filtration testing results. The standard has extra requirements that need to be met for kids masks that the KN95 standard does not have or test for. The standard GB/T38880-2020 is specifically for children and has 95% filtration capabilities. All KN95 and N95 masks have the same filtration layers as the GB/T38880-2020 masks, those filtration layers are the Melt Blown layers. Customers have a misconception that because a mask is thin it doesn't filter well, those layers are the thinnest layers in all types of masks. Companies fluff up masks with filler layers to make them seem thicker, so that it gives you the impression that the masks filter better. The only filters that actually work are the melt blow layers in a mask everything else is a filler.

ADJUSTABLE EARLOOPS Each earloop has rings that can tighten or loosen the earloops to pull the mask tighter on the face. An adjustable strong plastic nose clip runs along the top to create seal around the nose.
FIT FOR KIDS 4-13 YEARS Sized at (5.12" x 4.17"), they fit comfortably on the child's face and fit the contour of the face. Now you can take your children with you to the store, go on trips, and send them to school safely!
INDIVIDUALLY SEALED Each mask is individually sealed in resealable bags so they are perfect to throw in your purse, backpack, or your child's pocket and they stay clean.
LIGHT AND BREATHABLE Designed for the utmost in comfort, these masks are painless and adjustable. They offer full coverage of the nose and mouth and allow kids to play and learn freely.